Features of fingerprint for attendance and departure
Attendance and attendance devices are documented in the companies and institutions. Attendance and attendance are documented by fingerprint or attendance cards. At the fingerprinting process, the employee shows his / her name on the machine and the time of attendance or departure is recorded through the fingerprint program.
An additional feature of the fingerprint for attendance and departure can be connected to the device through the Internet so that you can pull the fingerprint from anywhere without the need to fingerprint through the flash, saving you time to pull the fingerprint from the main site of the fingerprint when you want to link the fingerprint to the Internet must be the site that will The Internet is installed on the towers and the slides can not connect the device to the Internet and you can only connect the device to the internal network and rely on the most common method is to draw the fingerprint on the To flash or drag them through the intranet.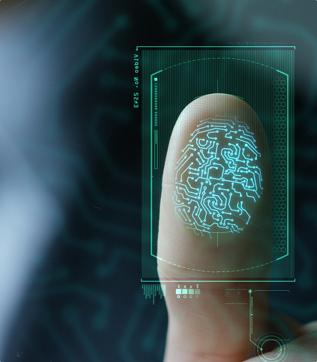 Specification of the fingerprint program for attendance and departure
Record the time of attendance and leave carefully..
Special program for the device in Arabic and English..
Setting up attendance and departure shifts Example of pink or pink a day or a week with the possibility of creating a separate set of different time or one time.
Only sign-in, sign-out, or both.
Possibility to use more than one fingerprint of the hand as thumb and forefinger..
Possibility to calculate additional times.
Establish a report for the movement of the employee from attendance, absence, vacations and determining the times of authorization.
Connect the fingerprint device to more than one computer on the Intranet or via the Internet.
Fingerprint data can be retrieved from the fingerprint device by flash.
Supports attendance and departure cards..
Connect the fingerprint device to the doors to open the doors by fingerprint.
The possibility of connecting all branches of the company in the main branch to follow up attendance and remote distance by connecting the device to the Internet
After the footprint is installed, the fingerprint is recorded for all employees by training the fingerprint officer to record the fingerprint for each employee. The device is then connected to the network or fingerprint data is pulled onto Flash. The fingerprint software is installed on the computer of the responsible employee. Flash on the computer and then prepare the roses in the program and train the employee to add roses.
Illustration of the work of the fingerprint device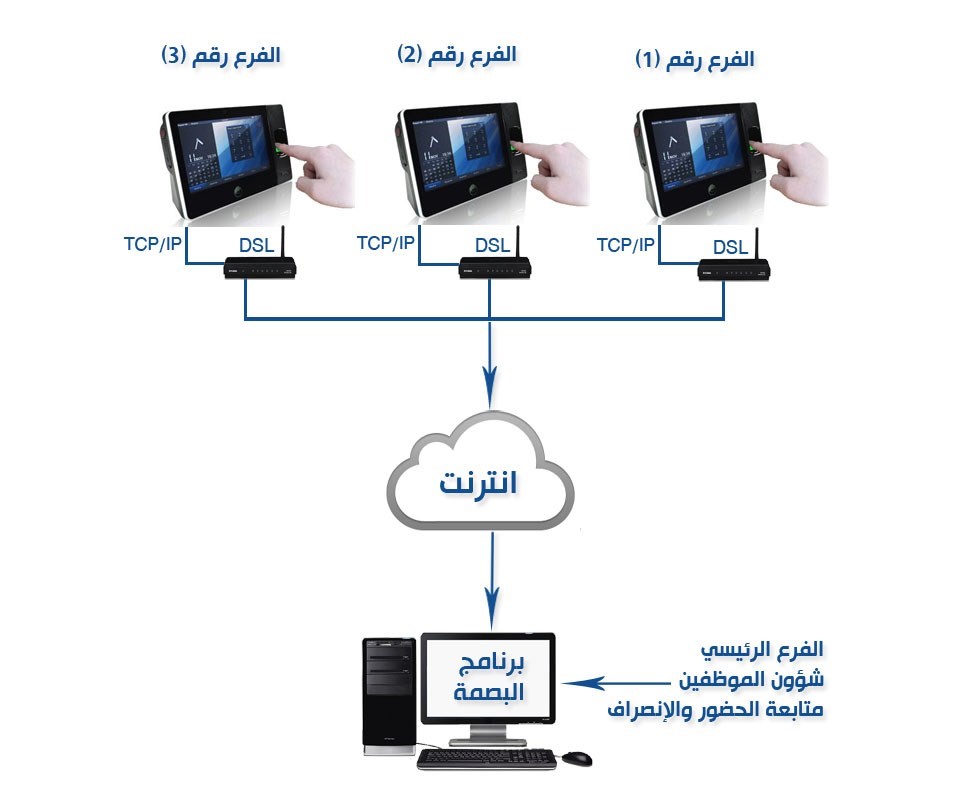 As you can see in the previous image, the device can be connected via an internal network within the company, and this will stop the withdrawal of fingerprint information attendees and take off the flash. You can also drag a report to each employee of the program fingerprint by clicking from the top in the program on the reports and then select all or choose a specific employee and then click on the account will show you the attendance and departure data from the list click on the report and then choose the fourth option is the time schedule of staff within the times You will be able to print it from the Reports page.
You can request to install the fingerprint device by contacting us